CLP Discussion
The Church Land Programme had a dialogue on 6 Nov 2009 on the state of our democracy in light of the attacks on Abahlali BaseMjondolo in Kennedy Road, and Abahlali's Constitutional Court victory against the KZN Slums Act. Please see pictures from the dialogue below.
Fanomenal Event – May 2011
Frantz Fanon died fifty years ago but his radical humanism remains as rich, powerful and relevant as ever.To mark the anniversary of his death, and to engage the legacy of his life and work, CLP invited some of the world's and South Africa's leading radical and Fanonian scholars and activists to present, debate and discuss with us. It happened on 30th May 2011 on the Pietermaritzburg campus of the University of KwaZulu-Natal. T-shirts for the event were made. See picture of the back of the t-shirt below.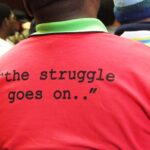 CLP Music Gig – June 2012
Live Music with Nosihe and the Afrocentrics happened on 22 June after our board meeting.