PADKOS NO 26
On Friday afternoon, some of us at CLP had the opportunity to participate in a memorial service for those killed in the Marikana massacre. I say 'participate' because it wasn't possible to just 'attend' such a service. The opportunity to light a candle in memory of each person slain; to hear from those who had been able to talk with their family members and friends; to hear their anger and pain; to sing, again, Senzeni na?; to reflect on what we have become; an opportunity to act in solidarity.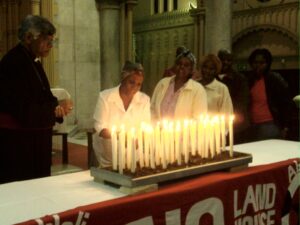 At the end of Bishop Rubin's address at the memorial service, he made a call for others to join him in making this simple declaration:
In the name of God, will all good people join me in this small declaration today?
To the powerful in the state, in business, and in the armed forces, we declare:
the police will no longer shoot, hurt, silence or intimidate our brothers and sisters when they struggle for justice;
we no longer accept an economy that creates obscene wealth for a few on the backs of exploited and abused workers.
To the poor and the workers we declare:
do not stop struggling for justice, we are with you;
carry on defending the fundamental humanity and dignity of every single human being.
We at CLP we join with Bishop Rubin in making that declaration and invite our Padkos readers to do likewise.
For this edition of padkos we share two attachments with you. One is a collection of some of the best reflective pieces written by a range of thoughtful people coming to terms with the truth of what has happened here. The other is the most up-to-date, and profoundly chilling, account of investigative reporter, Greg Marinovich's findings after two weeks on the scene at Marikana.
Graham Philpott, Director, Church Land Programme.
Read the attachment – Marikana resources
Read the attachment – Cold Murder Fields of Marikana