Nomasonto (Sonto) Magwaza – Chairperson of the Board
Sonto currently works as the Director of the Ecumenical Services for Socio Economic Transformation (ESSET) and hails from Sebokeng, Gauteng. She studied at the Vaal University of Technology. Sonto has worked at ESSET since 2005 on various social justice issues including building and strengthening the voice of informal traders, conceptualizing and beginning to apply the politics and culture of solidarity economies in a possible South African context. She is engaged in various social justice platforms, noting that she is selective about her alignment and peacefully out of order, where necessary. Sonto is appreciates the politics and work of CLP and has a natural ability to analyse and articulate.
Rev Janet Trisk- Vice Chairperson of the Board
Janet is an Anglican priest currently serving at St Alphege's Church in PMB. Prior to returning to parish ministry she taught theology at the Anglican seminary in Makhanda (formerly Grahamstown) for 12 years. She believes that all great changes come through imagining something different, hence the importance of music, literature, the arts in creating a more just world.
Karen Read- Treasurer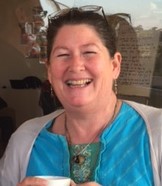 Karen Read has worked for a number of non-profit organisations over the past 30 years. These include South Durban Community Environmental Alliance (SDCEA), Diakoina Council of Churches, Biowatch South Africa and Vuleka Trust. She is a committed environmental justice activist, and believes that we all have a responsibility to heal the unjust systems that cause poverty and the destruction of the planet.
Anna Selmeczi
Anna has a background in political theory is and currently a lecturer at the African Centre for Cities at the University of Cape Town. One of the core questions of her practice as a partner in learning and struggle is the place of knowledge in defining particular orders at various levels of our societies, as well as in emancipatory political praxes that disrupt these orders. CLP's practice is exemplary of the latter in Anna's view, and that is why serving on the board is such an honor.
Herschelle Milford
Born and raised in rural Namaqualand, South Africa, Herschelle is passionate about development working in rural communities and community-based initiatives. She believes in the empowerment of people, women in particular, and the strength of partnerships and collaborations. After serving 18 years as the CEO of Surplus People Project, Herschelle stepped down in 2017 to work as a consultant and explore new opportunities in mentoring youth and platforms for sharing experience and knowledge. She has a Bachelor's Degree and a Higher Diploma in Education from the University of the Western Cape. She has served on several NGO boards, including the South African San Institute and Biowatch.
Rod Bulman
Rev Thulani Zikhali
Dudu Radebe