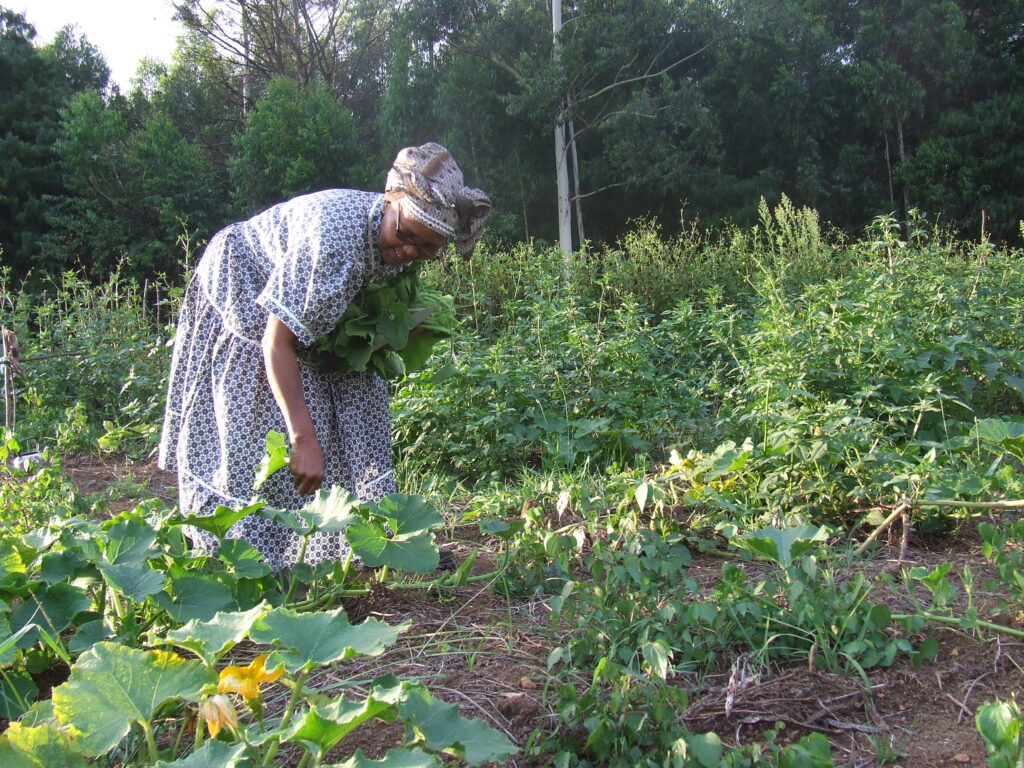 Gogo Zondi harvests her crops on the land that was previously disputed
"What may appear as a shack to other people, to me and my family, is a house, and I am very proud of it… It is quite disturbing that there are people who refer to my house as a 'land claim shack,'" wrote Mrs. Florence Zondi in response to a regional newspaper report regarding her family's land.
Gogo Zondi, as she is affectionately referred to, is a widow, who along with her family has been farming on their land for decades. At 89, she continues to work the land and be a symbol of immense perseverance and courage in the midst of a society plagued by injustice.
"I moved into this area in 1979 as a farmworker with my husband. The land I am living on is legally mine. It was left to me by my previous employers," Zondi clarified in a 2010 statement to the media.
Before the official title deed of her land was transferred to her in December 2012, the family dealt with ongoing abuses by the neighbouring white farmer as her rights to the land were denied. The neighbouring farmer was intent on evicting Gogo Zondi, and securing the land for himself. The Zondi family, including six children, was intimidated by threats of eviction and demolition of their home. The home was broken into and furniture thrown out and destroyed, causing thousands of rands worth of damage. Furthermore, the neighbour, was found guilty in court of entering the Zondi home, and assaulting a family member before fleeing.
However, after more than a decade of ongoing struggle against this intimidation, the family has finally been granted the title deed. Throughout those years, Gogo Zondi has continued to work portions of her land providing for her family and selling her produce to the local market.
More than that, she has been an inspiration to many in similar situations. She has been an influential presence in the Rural Network in KwaZulu Natal, a network of those groups struggling for justice and dignity around land, acting in solidarity with each other. She has also spoken powerfully at the public hearings into the situation of farmworkers, organised by the South African Human rights Commission.
Gogo Zondi has also been an inspiration to the Church Land Programme (CLP), as we have sought to accompany her in her struggles. Her perseverance and dignity in the court room battles; dealing with the ineffectiveness of government officials; expressing her humanity in the face of intimidation from powerful individuals; sharing her wisdom and passion with younger women in their struggle for their land and dignity – these all have been a resource for CLP as we have sought to journey with those who are systematically excluded and impoverished in their struggles for land and justice.
Click here for more pictures of Gogo on her land.