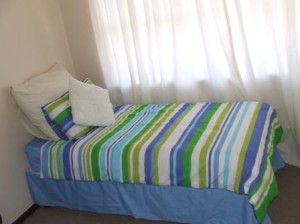 Emzabalazweni
Emzabalazweni is a space used by the communities that the Church Land Programme (CLP) connects with. It is used as a meeting space and also as a space to rest for those who are in the struggle when they come to visit the CLP offices.
However, the space is also available to anyone who might require space away from their busy life who may need it to gather their thoughts and have some peace of mind. A minimal / small fee is charged to help support the work of CLP and some of its projects.
The Church Land Programme has three very well priced self-catering units available for over-night accommodation. Please look at the details below and contact Phiwa for further information or to make a booking.
The Units
2 bedroom duplex with 2 x single beds in each
built in cupboards and overhead fans in each
remote access and undercover parking
fully furnished with modern decor
spacious lounge and dining room
laundry facilities and weekly cleaning service
fully functional kitchen
separate bathroom and toilet, towels provided
free wi-fi

Booking Procedure– Contact Phiwa Khumalo:
Call +27 033 2644 380, or
Fax your request to +27 033 3455 368, or
Email phiwa@churchland.org.za, or
Visit 340 Burger Street Pietermaritzburg
Rates
R350 per person per night
Rate includes tea, coffee and dry breakfast cereals
Accommodation@ CLP (e-brochure)