Nomponjwana Women's group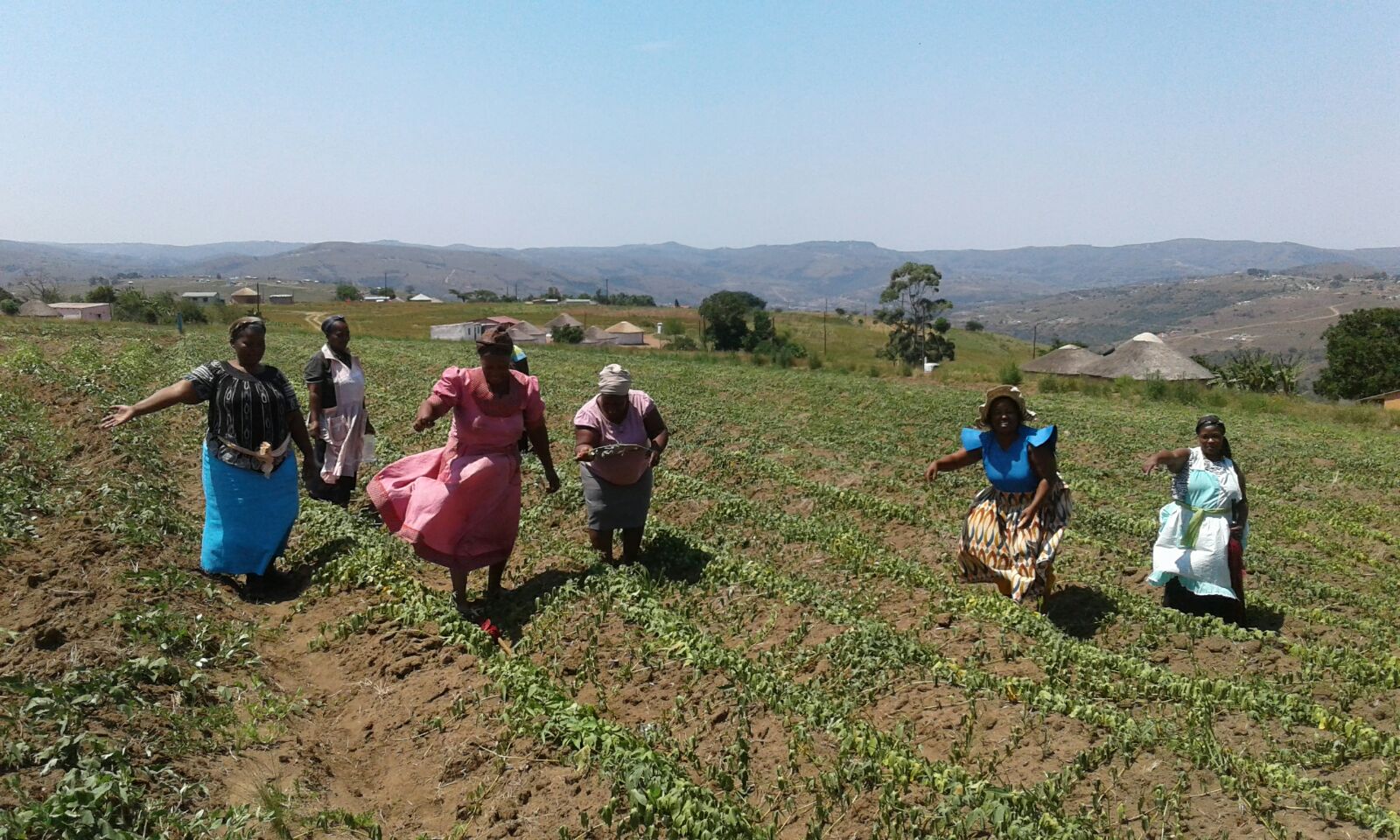 The Nomponjwana women started a gardening project as part of elevating poverty. They call themselves Sekwanele, which means 'enough!', Women's group.
The group was started after a number of unsolved cases that were reported to the South African Police Services (SAPS) and traditional headsmen concerning women being abused and killed in the area, were not dealt with. CLP has been working with the women for two years now.
Their gardening programme started last year. They have six fields with a minimum of six members per field. Despite the heatwave, as well as the drought, they have managed to plant sweet potatoes, a little bit of maize and indlubu (monkey nuts). Their plans after they harvest is to sell some of their produce and bank the money so that they can use the money to assist one another e.g. if a family member of a group member passes on or if help is needed with school requirements, they can use the money to assist that member wherever necessary. The main aim is to be more independent and help one another.
Nsimbakazi
When CLP connected with this community 2 years ago there was no development taking place in the area. All the development services were only done for the valley next to them. Even when people went to their local municipality they were often told that according to the municipal maps, there isn't a community. But when it's voting time, the government sends people to the community to campaign for their political organization. Government even sent voting personnel on voting day to the community. This hurts the community as they are seen as the people who only matter when its suits the authorities.
They have organized themselves as a community and demanded to be treated with respect and dignity. Now RDP houses are being built and they are almost finished. Even though they have not been handed over to the owners yet, there is progress.
Two jojo tanks have been added to the community and water is being delivered to the community twice a week. Though this is small progress, it is quite significant in bringing hope to the village. There is however, still a water scarcity and persistent drought in the area. There is some water in the river that had dried up but the water is completely not usable for human consumption.
Their protests at the contractor's offices showed the contractor that they were tired of being lied to. The municipality promised the community that would start electrifying the area by the end of July but to date nothing has happened. The Nsimbakazi task team, along with CLP, will go to Ntambanana municipality in September to query about the electricity installations and then see how to move forward from there.
The community wants to have another protest, as it seems that that's the language that the government understands.
_________________________________________________________________________
Living and Struggling with Dignity
"What may appear as a shack to other people, to me and my family, is a house, and I am very proud of it… It is quite disturbing that there are people who refer to my house as a 'land claim shack,'" wrote Mrs. Florence Zondi in response to a regional newspaper report regarding her family's land.
Gogo Zondi, as she is affectionately referred to, is a widow, who along with her family has been farming on their land for decades. At 89, she continues to work the land and be a symbol of immense perseverance and courage in the midst of a society plagued by injustice.
"I moved into this area in 1979 as a farmworker with my husband. The land I am living on is legally mine. It was left to me by my previous employers," Zondi clarified in a 2010 statement to the media.
Before the official title deed of her land was transferred to her in December 2012, the family dealt with ongoing abuses by the neighbouring white farmer as her rights to the land were denied. The neighbouring farmer was intent on evicting Gogo Zondi, and securing the land for himself. The Zondi family, including six children, was intimidated by threats of eviction and demolition of their home. The home was broken into and furniture thrown out and destroyed, causing thousands of rands worth of damage. Furthermore, the neighbour, was found guilty in court of entering the Zondi home, and assaulting a family member before fleeing.
However, after more than a decade of ongoing struggle against this intimidation, the family has finally been granted the title deed. Throughout those years, Gogo Zondi has continued to work portions of her land providing for her family and selling her produce to the local market.
More than that, she has been an inspiration to many in similar situations. She has been an influential presence in the Rural Network in KwaZulu Natal, a network of those groups struggling for justice and dignity around land, acting in solidarity with each other. She has also spoken powerfully at the public hearings into the situation of farmworkers, organised by the South African Human rights Commission.
Gogo Zondi has also been an inspiration to the Church Land Programme (CLP), as we have sought to accompany her in her struggles. Her perseverance and dignity in the court room battles; dealing with the ineffectiveness of government officials; expressing her humanity in the face of intimidation from powerful individuals; sharing her wisdom and passion with younger women in their struggle for their land and dignity – these all have been a resource for CLP as we have sought to journey with those who are systematically excluded and impoverished in their struggles for land and justice.
 ________________________________________________________________________
Abahlali baseSiyanda Transit Camp are taking the eThekwini Municipality to Court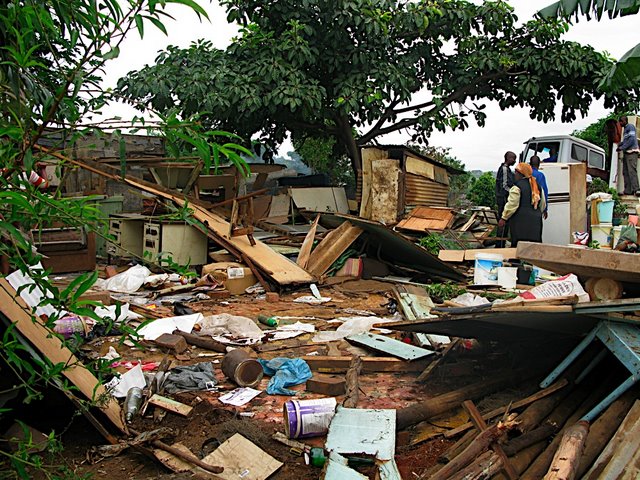 In 2009 Siyanda residents near KwaMashu were evicted by the Dept. of Transport and relocated from their shacks into Transit camps so they could build the road which is known as Dumisani Makhaye (R577). The residents contested the eviction in the streets and in the courts but an eviction order was granted by the Durban High Court and the residents were evicted and relocated on 17 March 2009. However the court order that was given stated that all basic services should be provided in the transit camps and that the residents should all be moved to formal houses within 12 months. Water, electricity and sanitation were not provided and the residents are still rotting in the transit camp. The municipality has simply ignored the court order. Moreover for the past 3 years their children have suffered the pain of walking a long distance to their schools because of the relocation.
The Siyanda transit camp is one of the hundreds of transit camps people that have been built in recent years. People are dumped in these camps and then neglected. Usually the conditions are much worse than in shack settlements. However the government likes transit camps because it can use them to dump people where it wants them to be and because it can take control over the allocation of housing. Forcing people into transit camps is a way for government to enforce it's control over the allocation of land and to break independent organisation. Sometimes only party members get a government shack in a transit camp and they are often controlled by the police rather than democratic structures. The eThekwini municipality has claimed that transit camps, which are government shacks, count as formal housing and as the realisastion of the right to adequate housing. This is a disgrace and an insult tonthe intelligecne  and dignity of the poor and it needs to come to an end.
On 14 October 2009 Abahlali baseMjondolo took the KwaZulu-Natal provincial government to the Constitutional court to fight against the section 16 of the Slums Act in order to prevent forced relocation to transit camps. We won this case and the government has now abandoned its attempt to 'eradicate' shacks by 2014. In Durban the Municipality has also agreed to start providing basic services to shacks, including electricity. However the struggle against transit camps continues.
Siyanda residents together with Abahlali baseMjondolo Movement S.A have taken a decision to take the eThekwini Municipality to court for failing to comply with the court order and also failing to house the residents as agreed upon. Abahlali baseMjondolo does not only stand for the Siyanda residents but we stand against all of the rest of the transit camps in South Africa. Transit camps are not 'adequate' or 'formal' housing. They are an abomination. They are places where people that do not count to this society are dumped.
This court case will take place in Durban High Court on the 17 September 2012 at 09:00 a.m.
For more information please contact:
Mrs. Nxumalo: 076 333 9386 (Siyanda Transit Camp)
Bandile Mdlalose: 071 424 2815 (ABM General Secretary)
ABM office: 031 304 6420
_________________________________________________________________________
 Rural Network March – 23 October 2012
Press Release – RN March 2012
* For additional stories, view home page archives.